picoNETS is a now a member of the HPE Partner Ready for Technology Partner program, an industry-leading approach to supply sophisticated integrated technologies in a simple, confident, and efficient manner.
Read More »

picoNETS announces the general availability of picoNETS' picoCDN platform. Designed to run on AWS Wavelength, the picoCDN platform is a next-generation edge Content Delivery Infrastructure, built to enable new high-throughput, low-latency edge delivery use cases.
Read More »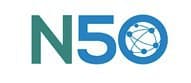 Happy to announce that picoNETS is a founding member of the N50 Project
The N50 Charter is about ensuring #digital Participation for the 'Next 50%' wherever they may be in the world.
Read More »

picoNETS has joined the Streaming Video Alliance (the Alliance), an industry forum comprised of leading companies from the online video ecosystem. picoNETS joined the Alliance to contribute in high-throughput, low-latency use cases spurred on by factors including 5G networks, ultra-high-resolution media, new traffic types such as AR, VR, and new Metaverse use cases
Read More »