Content delivery networks (CDN) are the transparent backbone of the Internet in charge of content delivery. Whether we know it or not, every one of us interacts with CDNs on a daily basis; when reading articles on news sites, shopping online, watching YouTube videos or perusing social media feeds
CDN consists of THREE Major Components

Caching – Thousands of proxy-cache servers spread over the world

Routing – Helps a user to make its request to the nearest caching server

Network – Reserved bandwidth capacity on multiple Carriers & ISPs to ensure high speed between a caching server and the user
The recent improvement in bandwidth cost has vastly increased the consumption of internet across different regions
However, its limited availability has given rise to ….
Congestion : Congestion is caused due to huge traffic from across the globe at the same time
Latency : Latency in returning the content requested is caused due to congestion
Performance : Performance of the website / media delivery is affected due to high latency
Want to accelerate your loading time, grow revenue, and increase visitors?
Solution – Get started with PicoCDN, a high-performance Content Delivery Network that delivers content at lightning-fast speed!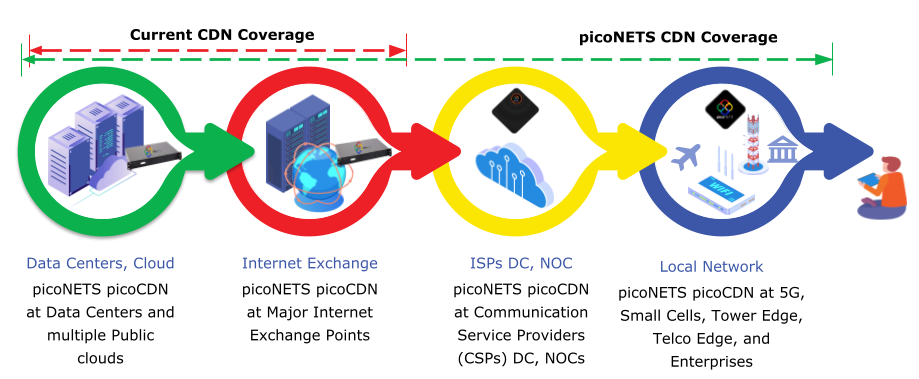 How is picoNETS Different
Traditional CDN models majorly comprise three points of distribution i.e. Cloud Data Centre, Internet Exchanges, and Internet Service Provider NOC.  This only provides limited performance.
With picoNETS additional layer of PoP's at the edge, we are only ONE hop away from the user, thereby enhancing performance to a whole new level.
Features
Content Types
We support HTTP and HTTPS content such as videos, images, webpages, scripts, and more.
Protocols
We support all major streaming protocols
HTTP Live Streaming (HLS)

Dynamic Adaptive Streaming over HTTP (MPEG-DASH)

Common Media Application Format (CMAF)

Real-Time Streaming Protocol (RTSP)

Real-Time Messaging Protocol (RTMP)
Web Accelerations
We do the dynamic conversion from HTTP 1.1 to HTTP 2.0 which helps in delivering webpages faster to your users.
Live Streaming
We support both Video on Demand (VOD) and Live streaming.
Image Optimization
We dynamically convert large image sizes into smaller sizes without any visible difference. This reduces the time taken to deliver web pages to your users.
Secure Delivery
With token-based authentication, content partners can provide an additional level of security for their content.
Location-based Content Caching
With Location-based content caching, we can pre-cache API the content to the edge nodes before the traffic builds up. Usually, most networks are free between 1-6 AM.
Private CDN
Don't like the Variable pricing? No problem! With our Private CDN, you pay a fixed cost for our service and you can serve as many customers as you like (subject to network availability and hardware scalability). Our CDN runs on BareMetal as well as a VM or a container
Model : Opex
Cost : Variable
Model : Opex
Cost : Variable
CDN
Pre-Caching
Reserved Capacity
Reserved Storage
HLS Live Streaming
Secure Delivery
Priority Edge POPs
Model : Capex
Cost : Fixed
CDN
Pre-Caching
Reserved Capacity
Reserved Storage
HLS Live Streaming
Secure Delivery
Priority Edge POPs
Dedicated Hardware
Model : Hybrid
Cost : Fixed + Variable
CDN
Pre-Caching
Reserved Capacity
Reserved Storage
HLS Live Streaming
Secure Delivery
Priority Edge POPs
Dedicated Hardware